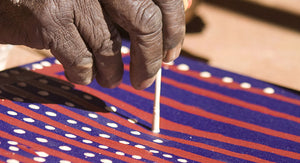 In Partnership with Indigenous Artists
In partnership with the wonderful Artists featured, and the organisations that represent them, we provide paid royalties to the families of those whose amazing stories we showcase on our quality Hematite tablets.
This in return provides a steady income to the artist and their family, whilst many visitors to Australia are touched by the warmth and depth that each unique piece brings.
By purchasing these works you are in turn supporting those whom we have been fortunate enough to have shared their stories with us.
---